We're a family of dairy artisans, providing your family with the most natural, high-quality milk products. Located in Central New York, we distribute throughout the region and even cross borders into other states. Along with our own cheese, yogurt, and other dairy products, we made the gouda for Jake (from Jake's Gouda Cheese) until he made his own cheese house. Some of the family has been involved in other business avenues as well such as baked goods and growing lots of tomatoes.
The Stoltzfus family moved up from Lancaster in 1990 and started farming here in Central New York. Farming has been a part of our history for many generations. Family to us is very important, but most of all, our faith in God and love to others is very important to us. Our team on our family farm is built of mostly family members. We love having family involved to preserve and to carry on the family farm.
We have several family farms where we love to keep the family farm thriving. Each farm has an average of 70 cows each. Our family farms are all located within just 10 miles of our creamery in Vernon Center, New York.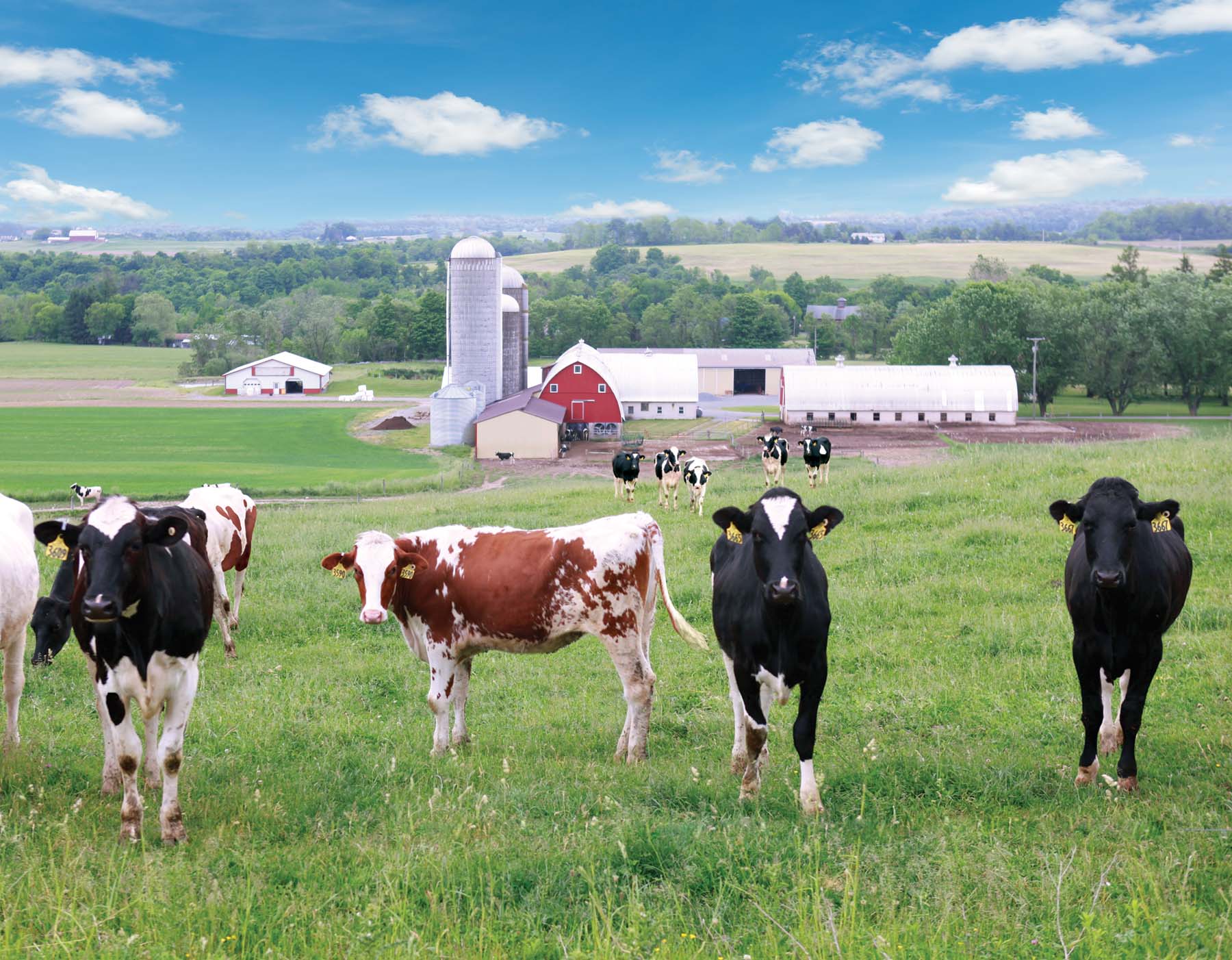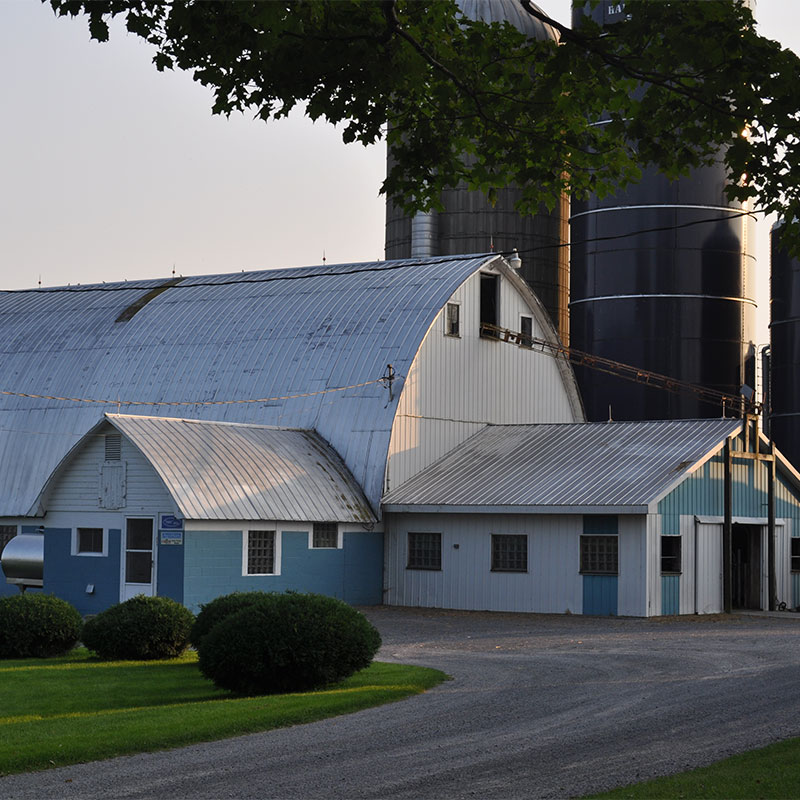 Cliché happy cow comments can be pushed aside here at Stoltzfus Dairy. We believe and know that healthy cows are what make healthy food. Our cows have access to the outdoors year-round offering them fresh air, exercise, and much-needed sunshine.
All our milk comes strictly from our family farms and we make sure that the milk coming in is as fresh as possible. This fresh high-quality milk comes into our creamery by our own truck. When we typically bottle Tuesday morning, that milk was in the cow Monday morning, so it's very fresh.
While keeping the family farm profitable is a priority, so is the quality of our products. We started with a vision to provide natural dairy products that taste great and most importantly is good for you.
By bringing great dairy products from our family's farm to your family's table, we will stay true to our beliefs and continue as traditional small-scale dairy farmers, for generations to come.
Come view our cheese and yogurt making from our observation tower. Give Vern a call at (315) 796-9264 if you would like to take a group tour of our plant. We work in the plant most Mondays through Thursdays; so feel free to stop by and purchase our dairy products from our dairy store!
Our Standards for Milk Preservation and Natural Products
At Stoltzfus Family Dairy, we do not homogenize our milk. Homogenization is a process that blends the cream throughout the milk so that it does not rise to the top. When your body intakes this milk, it cannot separate the fat from the rest of the milk. Lactose intolerant people have a hard time digesting homogenized milk because it is not in its natural state. Instead, we do minimum pasteurization, which is heating the milk to 145 degrees and cooling it back down. Most companies ultra-pasteurize, which means that you take the milk and heat it up to 200 plus degrees, and burn off all the good enzymes in the milk. We do not homogenize or ultra-pasteurize.
We were told that if we make yogurt, we would have to homogenize a milk for this process. Because this is not healthy for your body, we did not want to do this. Therefore, we came up with our own yogurt recipe so that we do not have to homogenize. We do not use preservatives, additives, and artificial flavors, so in our fruit-on-the-bottom yogurt, we buy fresh frozen fruit and cook it in house, that way you can taste the fresh and homemade touch in our yogurt. We have a passion at Stoltzfus Family Dairy for doing things naturally and making products that are as healthy and fresh as possible for our customers. If we can't do it naturally, we don't do it. We hope you will enjoy our all-natural dairy products fresh from our family farm to your family table.
Hours of Operation
Monday – Friday: 10am – 5pm
Saturday: 10am – 1pm
Jake Stoltzfus knew how delicious well-crafted food was. He wanted to bring that same goodness to Gouda Cheese. Together with his wife and using milk from their own dairy farm, they started making their own cheese. Jake's Cheese is made in Upstate New York but it originated in the Dutch tradition with its roots in Holland.  The cheese is turned on pine planks for sixty days until perfected and aged just right and covered in a cream coating instead of a wax seal. Jake's Cheese is not high-temperature pasteurized, but made from raw milk. These things make Jake's Gouda Cheese one of New York's finest traditional-style Gouda cheeses. The goodness is spreading as they now have three styles of cheeses: baby, aged, and smoked. Jake's Cheese received fourth place in the Gouda Cheese Contest at the World Champion Cheese Contest. Make sure to get your own taste of this delicious Gouda Cheese.
Stoltzfus Meats began in 1954 when Amos Stoltzfus and his wife Mary started selling meats and other goods from Lancaster County at the New Castle Farmer's Market in New Castle, Delaware. In the 1960s, Stoltzfus Meats expanded its customer base, product line, and facilities. Demand for Stoltzfus Meats' quality products–using the same recipes created by Amos–continued to grow through the 1990s and 2000s. Famous for his cheerful demeanor and oyster stew, Amos was beloved by employees. But in many ways, it was his wife Mary, who passed away in 1994, whose optimism and support is credited with keeping the business alive. Today, Stoltzfus Meats is led by Amos's son Myron. They now serve many retail stores, market stands, and restaurants throughout the East Coast. Together with a passionate core of dedicated employees, loyal customers, and quality products, Stoltzfus Meats continues to grow, grounded in the past and confident in the future.